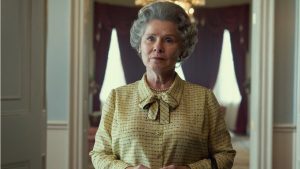 Picture: Netflix
Imelda Staunton is the next Queen in the next series of The Crown.
Netflix released a picture on its Twitter account adding it was "an early glimpse" of the new Queen in the royal drama.
Ms Staunton, 65, replaces Olivia Colman.
Claire Foy played the Queen in the first series.
The sixth series of The Crown's storyline will end in the early 2000s.
It will cover the collapsing marriage of Prince Charles and Diana.
The demise of Sarah Ferguson and her marriage to Prince Andrew after she was caught having her toes nibbled by another man.
The fire at Windsor Castle and, finally, the death of Diana.