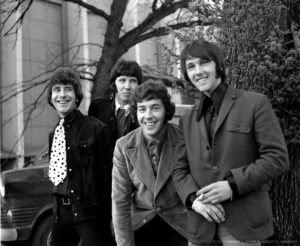 The Tremeloes. Dave Munden centre
Dave Munden the Tremeloes drummer – and often lead singer – with the 60s chart toppers has died.
He was aged 76.
Munden had been ill for some time.
The group started in the late 50s with Brian Poole as the front man.
Pop legend says the band was auditioned by Decca in 1962 and handed a contract in favour of another hopeful group – The Beatles.
Their first number one was "Do You Love" – knocking The Beatles' "She Loves You" off the top spot.
Poole left in 1965 and the Tremeloes stayed with a four-man line-up.
The band formed a publishing group and one of its first signings was teenage unknown Cat Stevens.
He penned their hit "Here Comes My Baby" – a top five UK hit.
"Silence is Golden" gave them another number one hit.
Munden was asked what he enjoyed most about the group's fame.
He said: "Meeting lots of girls, having lots of fun and enjoying the money.
"I bought myself both an Aston Martin DB4 and a Jaguar E-type sports car, which I enjoyed tremendously."
Former Showaddywaddy lead singer Dave Bartram said:
"Dave was a dear friend and a great character.
"We'll all miss him dearly".
https://www.youtube.com/watch?v=CMy6PaZT7_g&ab_channel=NoMadU55555
YouTube: Here Comes My Baby