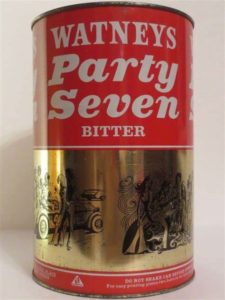 The Watneys Party Seven is making a comeback.
The ubiquitous 70s beer was a bland fizzing bitter ridiculed by many.
The drink's insipidness helped launch the Real Ale Campaign to launch.
However, a Party Seven proved incredibly popular at parties, weddings, and any social gathering.
And the fun started before the can was opened.
In fact, the opening was the highlight of most evenings.

The can needed a special opener that cut out a V shaped slot on opposite sides.
The first hole was the easiest but the second often sent the beer spraying over anyone within 12 feet.
Grand Prix winners dispensing podium champagne had nothing on the sheer power of an exploding Watneys Party Seven.
The red and gold barrel shaped seven-pint can was lost in the 80s to six-packs and a simpler ring-pull opening.
But it's making a comeback.
The new keg holds more than nine pints and its alcoholic content has been boosted to 4.2 from the original 3.0.
Thankfully, it also comes with its own tap.
The original Party Seven cost £1 in 1974 – £9.61 at today's prices.
The new version will sell for £25.00.
It has been launched by Nick Whitehurst.
For the last five years he and two friends have worked on the Watneys' brand.
Mr Whitehurst said about the relaunch:
"It's out of necessity after the rest of our business shut down overnight last March.
'We felt we couldn't give up on Watneys without first trying the Party Seven, given people's affection for it.
"We've heard so many anecdotes.
"Many's the story of old Party Sevens exploding and hitting the ceiling when people tried to open them.
"Lots of people remember drinking it at house parties, get-togethers, music festivals and football away-days.
"We're providing a link back to happier times and it's also a trip down memory lane for many people.
"We heard from one guy whose parents met because they were at a party when his father opened a Party Seven and it splashed over the woman next to him.
"She became his wife.
"We want it to appeal to people who remember drinking it years ago – but have updated the ingredients so we can also appeal to a new crowd."