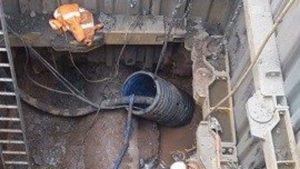 Picture: Severn Trent
A giant 300 tonnes fatberg is blocking a sewer under the streets of Birmingham.
The berg is estimated to be three feet high and more than one thousand yards in length.
The obstruction – caused by non-biodegradable items being flushed into the system – could take months to clear.
Scott Burgin, Severn Trent operations manager, said:
"Our advice is to always leave leftover cooking fat to cool, before disposing of it in the bin and to stick to only flushing the three P's – pee, poo and toilet paper.
"Bin anything else.
"These relatively small changes can make a big difference and hopefully avoid any future fatbergs.
"We're working as quickly as we can to resolve this problem and get everything back to normal as quickly as possible."
The water authority was alerted to the problem as sensors recorded rising water levels in the sewers.