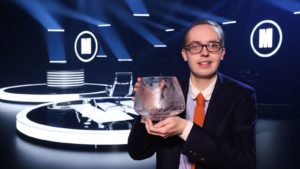 Picture: BBC
Twenty-four-year-old Aberdeen University student Jonathan Gibson has become the youngest person to win Mastermind.
Jonathan from Glasgow scored a perfect 11/11 in his specialist subject on the comedy duo Flanders and Swann.
He then romped his way through the general knowledge questions – often desperate to answer before quizmaster John Humphrys had finished asking.
His win beats the previous youngest person held by Gavin Fuller.
He too was 24 – but Jonathan was 90 days younger.
Jonathan's win marked the final programme for Humphrys.
After 18 years on 735 shows asking more than 80,000 questions, he is standing down.
He will be replaced by BBC presenter Clive Myrie.