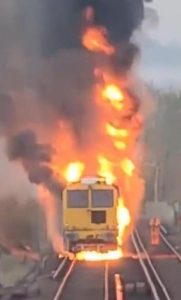 A goods train burst into flames causing huge disruption to the rail network.
The train was ablaze near Sevenoaks in Kent.
Six fire engines attended the scene.
Nearby residents were told to close their doors and windows as acrid black smoke filled the air.
Lines between Sevenoaks and Orpington were closed for several hours.
Network Rail tweeted:
"Once we've moved the damaged tamper, a machine which restores the level of the track, we'll need to check for damage to the track & what repairs might be needed.
"We don't know yet what caused the fire but are working with Kent Fire and Rescue who are investigating.
"We have lots of people on site right now working to get passengers moving again and that's our priority."