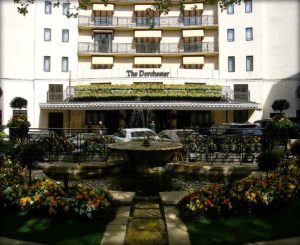 Dozens of diners "did a runner" after sitting down to eat at The Dorchester Hotel in London's Mayfair.
They were in its rooftop restaurant The Grill when an alarm was triggered.
The eating area was quickly evacuated.
But by the time the restaurant had been given the all clear many of the 50 or so diners had gone.
And most of them had not paid their bill.
The Dorchester reckons it's lost £5,000 on the evening.
A source told The Sun:
"The whole thing was a complete carry on.
'The fire brigade were called when a gas heater burst into flames but whoever rang told them a person was on fire, so they sent ambulances and the fire brigade.
"Once it was clear they realised that guests had left without paying any of their bills, it came to around £5,000 in all."