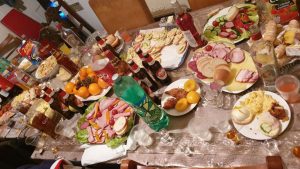 The police have broken up a "massive karaoke party" despite people being ordered to self-isolate.
More than 25 adults and children had gathered for the occasion.
The police found mountains of food and hi-fi equipment after calling on the house in derby.
Officers said they were in "absolute shock" at what they saw.
The party was stopped, and people sent home.
The organisers were "spoken to" about the irresponsible act of selfishness.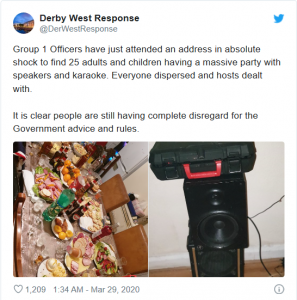 The force posted to Twitter:
"Officers have just attended an address in absolute shock to find 25 adults and children having a massive party with speakers and karaoke.
"Everyone dispersed and hosts dealt with.
"It is clear people are still having complete disregard for the government advice and rules."
The party came on the first weekend of the nationwide lockdown.
Crawley Police in Surrey also broke up parties.
They said they had "attended a number of reports of parties in houses and neighbour gatherings" on Saturday.
They were also investigating reports of "local pubs sending information about paid lock-ins, also ignoring any lockdown rule currently in place".