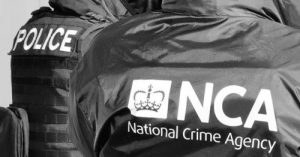 Organised crime gangs are using the coronavirus pandemic to exploit people.
The National Crime Agency (NCA) has warned the public to be wary.
Steve Rodhouse, NCA director general, said:
"We recognise the Covid-19 outbreak may provide opportunities for criminals.
"We are monitoring intelligence and crime trends to ensure that we, and the whole law enforcement system, can react as needed."
Cyber-crime investigators have reported coronavirus-themed malicious apps and websites.
The NCA team has also discovered e-mail phishing attacks aimed at stealing people's personal and financial information.
One force reported criminals posing as health officials in an attempt to get victims to disclose personal information.
The NCA said a consignment of suspected fake Covid-19 test kits sent from the UK was seized by US border officials in Los Angeles.
Mr Rodhouse added: "Our mission in leading the fight against serious and organized crime has never been more important, and our work continues.
"The NCA's National Cyber Crime Unit is advising people to be extra vigilant when seeking out online information relating to the pandemic and to ensure they are following online safety advice which can be found on the National Cyber Security Centre website."