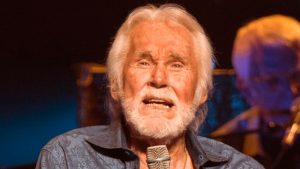 Country music legend Kenny Rogers has died. He was aged 81.
Rogers – who cancelled all his shows two years ago – had "health challenges".
He played the legends stage at Glastonbury in 2013.
A statement said:
"The Rogers family is sad to announce that Kenny Rogers passed away last night at 10:25PM at the age of 81.
"Rogers passed away peacefully at home from natural causes under the care of hospice and surrounded by his family."
Rogers was known for hits such as Ruby Don't Take Your Love To Town, Lucille and Coward Of The County – the last two topping the UK charts.
Born and raised in Houston, Texas, Rogers' gravelled voice brought him 20 solo number ones on the US country charts between 1977-87.
Rogers was inducted into the Country Hall of Music in 2013 and gained a Lifetime Achievement Award from the Country Music Association the same year.
The Gambler was adopted as the team song by England at the Rugby World Cup in 2007, with Rogers telling them in a video message: "I don't know a whole lot about rugby but it's a song that means a lot to me and I'm mighty proud that you guys found something in it to be your inspiration."
The Country Music Association said: "Country music has lost the great Kenny Rogers, who has forever left a mark on country music's history. His family and friends are in our thoughts during this difficult time."
Rogers' family is planning a private service "out of concern for the national Covid-19 emergency.