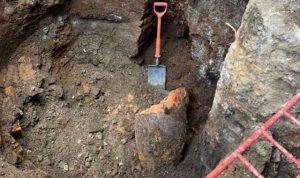 Streets in London's Soho have been evacuated for the second day running after part of an unexploded WW2 bomb was unearthed.
Police confirmed it was "another part" of ordnance found during building on Dean Street.
The Royal Engineers Bomb Disposal team removed the bomb parts.
A Ministry of Defence spokeswoman said:
"An Army explosive ordnance disposal team has been called out to Soho to support the Metropolitan Police after discovery of a 500kg Second World War device.
"The Army EOD team have confirmed the bomb was safe to remove overnight to a location where it will be detonated.
"Military personnel are regularly required to assist with the disposal of historic ordnance such as this, ensuring every situation is dealt with as quickly as possible for the safety of the general public."
YouTube credit Char Bar