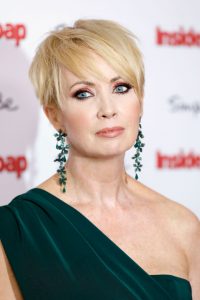 Hollyoaks star actress Lysette Anthony claims she was raped twice by movie mogul Harvey Weinstein.
Ms Anthony, 56, says the offences were during the 80s.
She was aged 18 when she was introduced to Weinstein at a press launch.
They became friends over the following 12 months.
Then, Ms Anthony claims, the film producer turned up at her home and "forced himself" upon her.
She said: "I have this memory of one morning in my little basement flat suddenly seeing this fat lump of a man stumbling down my steep little steps.
"He knocked on the door it was in the morning I only had a gown on he pushed me against my coat rack, and he raped me.
"He was heavy and fat and I was trying to get him off and [I was] giving up. And that's that bit."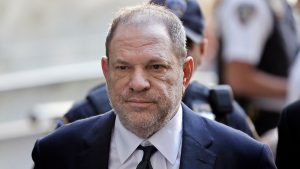 Harvey Weinstein
In an interview with Channel 4 news, Ms Anthony also alleges Weinstein raped her in her hotel room during Cannes Film Festival.
She said: "I remember bumping into him and him literally waddling after me and pushing me into my little room … and raping me."
The star says she kept quiet about the alleged sexual assaults because of "shame".
Ms Anthony added: "I've never ever spoken of this because of the shame.
"I've thought about this a lot and I think there's a type with all these 80 plus women.
"We are all nice middle-class girls.
"We're taught we are in control. Mother superiors saying you hold the reins.
"This isn't about sex; this is about domination and control.
"But you know, again, what is anyone going to say if some aspiring actress is going to accuse someone in position of ability to change their world.
"It must be her fault.
"Poor fat Harvey with these lovely girls he was throwing himself at.
"I was frightened of what he would do to me. I thought if I didn't have a career, I would've lost my flat.