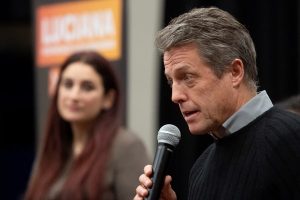 Film star Hugh Grant has joined the election campaign and has been knocking on voters' doors.
The Notting Hill actor was supporting Liberal Democrat Luciana Berger in North London.
Mr Grant admitted that he was not "a life-long Lib Dem supporter".
He added: "The real reason I'm here is, like so many of the population now, poll after poll has shown Britain has changed its mind."
He said he planned to visit several constituencies.
He'd support other parties with tactical voting against Brexit which he said was "the responsibility of all of us".
On his campaign trail Grant will help for former Labour MP turned Lib Dem Chuka Umunna and former Tory now Independent candidate Dominic Grieve.