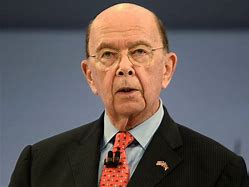 Wilbur Ross, US Commerce Secretary
Chinese tech titans Huawei have been granted an extension in its long running battle with US President Donald Trump.
The multi-national company has been given another 90 days to continue with its business in America.
Huawei has been under swingeing sanctions, preventing US-based companies from doing business with them.
The latest reprieve comes as China and American continue trade talks.
The Americans, in particular Donald Trump, believes Huawei uses its software and communications infra-structure to "spy" on people.
However, no evidence has been supplied to confirm the allegations.
The claims have been vigorously denied by the company.
US commerce secretary, Wilbur Ross, said:
"The Temporary General License extension will allow carriers to continue to service customers in some of the most remote areas of the United States who would otherwise be left in the dark.
"The Department will continue to rigorously monitor sensitive technology exports to ensure that our innovations are not harnessed by those who would threaten our national security."
In a statement Huawei said this latest extension "won't have a substantial impact on Huawei's business either way. This decision does not change the fact that Huawei continues to be treated unfairly either."
They also said that blacklisting Huawei has "done significant economic harm to the American companies with which Huawei does business".