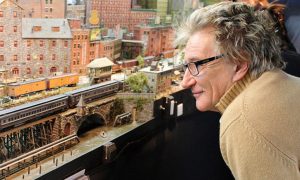 A proud Sir Rod Stewart has shown for the first time his stunning model railway set.
The legendary rocker has spent 26 years making the 124 ft long by 23 ft wide near-perfect replica of an American city.
The model – called Grand Street and Three Rivers City – has hundreds of highly detailed buildings.
And its 1940s setting is crammed with period cars, lorries, trucks and – of course – trains.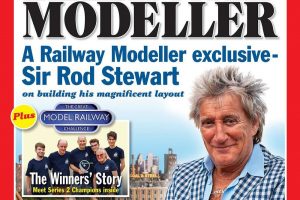 Sir Rod told Railway Modeller magazine he loves making the scenery and structure modelling, rather than the locomotives, trackwork or electrics.
He said: "It's the landscape I like.
"Attention to detail, extreme detail, is paramount.
"There shouldn't be any unsightly gaps or pavements that are too clean."
Sir Rod revealed his passion was first inflamed when he was "eight or nine" on a family holiday in Bognor Regis.
He saw a "marvellous" railway layout in a model shop.
Also, his father gave him the advice "every man needs a hobby".
"And mine's model railway", he added.
When he wanted a station for his train set his dad gave him a guitar instead.