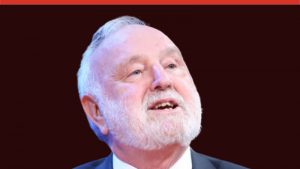 Labour politician Frank Dobson, who became a minister after Tony Blair's 1997 landslide victory, has died. He was aged 79.
Mr Dobson resigned from the House of Commons four years ago.
He has served as the Holborn and St Pancras MP in London for 36 years.
The Yorkshire born politician was Blair's first health secretary.
He stood as Labour's mayoral candidate in 2000 after being persuaded to go for the job by Prime Minister Blair.
He came third.
A family spokesman said:
"The Dobson family is sad to announce the death of Frank Dobson, former MP for Holborn and St Pancras and secretary of state for health.
"His family would like to thank all the staff at the Homerton University Hospital for their outstanding expertise, commitment and care in the last few months and the staff of York Hospital for his previous excellent care.
"He also greatly appreciated the support of his many friends and former parliamentary colleagues."