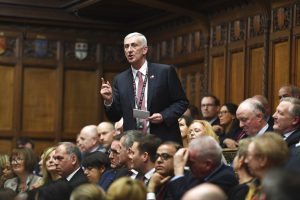 Sir Lindsay Hoyle is the new House of Commons Speaker.
MPs elected him after a series of ballots in the Commons.
Sir Lindsay replaces controversial Speaker John Bercow who stood down on October 31st.
As tradition demands, MPs dragged Sir Lindsay to the chair with him showing an air of "reluctance".
He promised he would be "neutral and transparent".
He added: "We've got to make sure that tarnish is polished away.
"This House will change, but it will change for the better."
Sir Lindsay, 62, Labour MP for Chorley, Lancashire, was Bercow's deputy for nine years.
In his speech to other MPs he said: "The Commons is not a club where length of service takes priority.
"The person who walked through that door yesterday is just as important to their constituents – their voice must be heard as well – and the pecking order ought not to be there, it is about equality."
To remain impartial Sir Lindsay will have to resign as a Labour MP.
However, by tradition, other parties do not contest his seat.