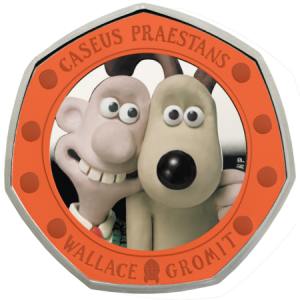 The Royal Mint has issued a new 50 pence piece to celebrate the 30th anniversary of Wallace and Gromit.
The coin was designed by the puppets' creator Nick Park at Aardman Animations.
It's based on the original short story "A Grand Day Out", first shown in 1989.
It bears the inscription "caseus praestans" – dog Latin for "cracking cheese".
Mr Park said: "When A Grand Day Out was first screened 30 years ago, we never expected for Wallace and Gromit to become such a long-standing, well-loved series around the world."
He added it had been an "honour" to work with The Royal Mint to "bring the pair alive in a new way".
However, the coin will not be in circulation.
It can be bought from the Royal Mint.
A standard coin starts at £10, a silver proof version will cost around £65 and the 15.5g gold proof 50p is priced at £980.
Nicola Howell, director of the consumer division at The Royal Mint said:
"The films are such a huge part of our popular culture and are loved by generations of all ages, so we're delighted that we can be a part of the 30th anniversary celebrations."