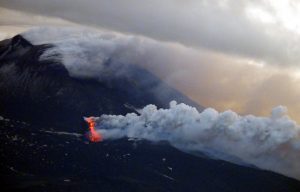 An erupting Mount Etna in Sicily has brought delays to UK flights to the Mediterranean.
Eurocontrol in Brussels has alerted airlines that the volcano has started and its "code red".
The smoke is rising to 14,000 ft, though experts say it's mostly steam at present.
Flights in and out of Catania airport, just south of the volcano, have been reduced due to the risk of volcanic ash.
Eurocontrol warns: "Aircraft operators are strongly recommended to closely monitor all relevant Notams [notices to air men]."
EasyJet flights from Catania to Bristol, Luton and Manchester were delayed by more than an hour.
EasyJet told passengers: "Your plane was delayed on an earlier flight it operated due to air traffic control restrictions caused by activity to Mount Etna.
"We're working to minimise this delay where possible.
"The disruption is beyond our control and is considered an extraordinary circumstance."