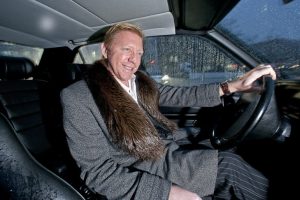 Boris Becker has been fined and given points on his driving licence after his latest run-in with the police.
The Wimbledon ace was caught texting while driving and not wearing a seat belt.
Becker, 51, went through a red light on Chelsea Embankment, London, while sending the message.
PC Anthony Wright was on traffic patrol when he spotted Becker.
In a written statement PC Wright told Bromley Magistrates' Court:
"I observed the driver… travelling at around 10-15mph and accelerating.
"I could clearly see the driver and sole occupant was holding an iPhone 7 in his right hand and was operating the device with his right thumb."
Last July the 51-year-old BBC pundit, who won Wimbledon three times, was given a six-month road ban after racking up four traffic offences in three years, including being caught speeding three times.