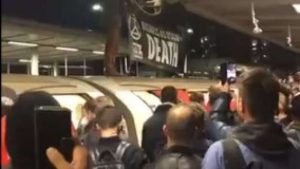 Picture: Twitter/@charwilkoo.
Angry commuters dragged two Extinction Rebellion campaigners off a Tube carriage.
The men had clambered on top of the train at Canning Town and unfurled a banner which read "Business as usual = death".
Within minutes commuters hauled the protesters onto the platform and started to attack them.
British Transport Police (BTP) stepped in to stop the fight and arrested the XR campaigners.
BTP tweeted officers were dealing with three separate incidents involving Extinction Rebellion at Stratford, Canning Town and Shadwell.
It added: "Arrests have already been made and officers are working to quickly resume services."