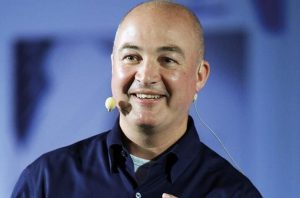 Alan Jope, CEO Unilever
Global brand Unilever has pledge to cut its "virgin plastic" in half in a pioneering stand against waste and pollution.
The Anglo-Dutch company, which makes more than 400 different products, will cut its plastic bottle and carton usage from 700,000 tons to 350,000 over the next six years.
It will concentrate on refillable containers.
Chief executive Alan Jope said:
"We are not against plastic. We think it plays an important role in society.
"But the place for plastic is not in the environment.
"Our starting point has to be design, reducing the amount of plastic we use, and then making sure that what we do use increasingly comes from recycled sources.
"We are also committed to ensuring all our plastic packaging is reusable, recyclable or compostable."
Paula Chin, sustainable materials specialist at WWF UK, said:
"Unilever's ambition to slash their plastic usage and to process more plastic than it sells is a welcome step.
"We need to see more businesses, producers and governments all taking greater responsibility.
"The natural world isn't a luxury – it is our life support system, and we must act now to protect it, before it's too late."