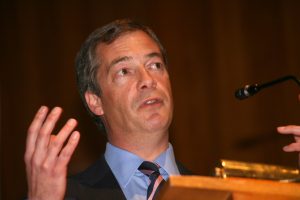 Brexit Party leader Nigel Farage will run for Parliament at the next General Election.
Mr Farage, who is an MEP, confirmed his intention during a weekend political show.
He said: "Of course I will stand.
"I will lead the charge on behalf of the Brexit Party.
He added party will play a major in an election if Boris Johnson does not leave the EU by the October 31st deadline.
Mr Farage is trying the persuade the Conservatives to team up with his Brexit Party to thwart Labour at the coming election.
He said if they joined forces, they would gain a majority of between 60 and 100 seats.
He said: "Here is a way for Boris to get a big, workable majority. We're happy to help with that,"
But Prime Minister Boris Johnson ruled out working with Farage.
He told the BBC: "The Conservative party is the oldest, greatest political party in the world, it's a big, broad church and we don't do deals with other parties."