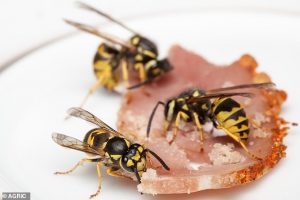 German Nightmare wasps are invading Britain's homes after feasting on fallen apples, making them drunk.
The wasps have three black spots on its face and sting repeatedly.
As Autumn approaches its usual diet of insects is decreasing, forcing the wasps to gorge on apples.
The fallen apples ferment and the juice is like cider.
Two-year-old toddler Leo Compton is recovering in Norfolk after being stung 12 times on his face by the angry wasps.
Mum Lindsay had taken him to a playground near her home in Great Blakenham, Suffolk.
Leo was stung by wasps from a nest underneath the slide.
He was taken to the local A&E unit.
Lindsay said: "There was maybe 20 of them and they were everywhere, and three of them got into his hair.
"It was a moment of pure panic and helplessness.
"He was really badly swollen afterwards and was very upset for the next couple of hours."
At this time of the year British and German species are in colonies which can contain up to 10,000 wasps.
If disturbed, they can instantly send out signals to mobilise the entire nest to sting an intruder.