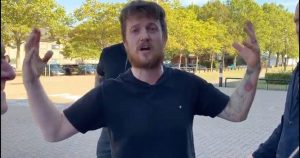 Jailed far right protestor Tommy Robinson has been released from prison after serving nine weeks for contempt of court.
He'd spent most of his time in solitary confinement.
After walking through the prison gates, the heavily bearded English Defence League founder joked "first stop, hairdressers".
He then tucked into a McDonald's at a nearby diner.
Robinson – real name Stephen Yaxley Lennon – was greeted by supporters as he left Belmarsh prison in South East London.
He said: "Here's the crazy thing.
'I walked into Belmarsh prison and walked out, without seeing another prisoner, for my safety.
"They would have killed me."
He said he had been sent 14 sacks of mail from supporters while inside.