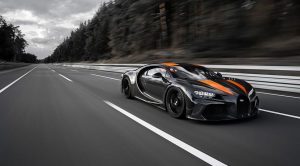 A record-breaking road car speed of 304 mph might not stand because of a technicality.
The Guinness Book of World Records is refusing to verify the attempt by the Bugatti Chiron.
The Guinness rules stipulate the vehicle must travel two ways on the course in opposite directions.
And the runs must be within an hour of each other.
The average of the two is then taken as the true speed.
The Chiron's 304.77mph speed, measured at the Volkswagen Group's test circuit at Ehra-Lessien in Germany, was set driving only in one direction.
The rip-roaring track record has already been accepted by Germany's technical association.
But, as yet, Guinness won't acknowledge the feat.
Bugatti president Stephan Winkelmann said the record was a "milestone for eternity".
His team said it was a "safety call" to only travel in one direction.
Decades of cars travelling only one way had "modified" the track surface.
The Chiron would be going "against the grain", causing its tyres to overheat.
Until the dispute is resolved, the car production record set in 2017 is still held by an Agera RS with a speed of 277.87 mph.