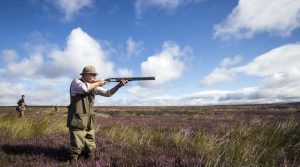 Labour has called for radical changes to grouse shooting claiming it causes environmental damage to important natural habitats.
As the Glorious Twelfth started today with a bang Labour said there needed to be "viable" alternatives".
The party suggests simulated shooting or wildlife tourism could halt "destroying huge swathes of plant life and killing many animals."
However, the "Inglorious Twelfth" policy demand has angered not only landowners but gamekeepers, shooters, and even B&B landladies.
They all believe the suggested radical changes could put thousands of jobs at risks in many industries reliant on game shooting.
Grouse moors cover nearly 550,000 acres of land in England and Scotland.
The British Association for Shooting and Conservation (BASC) said the moors created "vital employment in isolated rural areas", as well as supporting small communities and businesses. 
It added that gamekeepers and farmers played a crucial role in preventing the spread of wildfire across large parts of Northern England and Scotland.
Former England cricketer and shooting enthusiast Ian Botham said Labour was "jumping on the bandwagon" in an attempt to appeal to "townie" voters. 
"All you are doing is giving a death sentence to the red grouse.
"Every single moor that has been taken over by someone else has died. They are left unattended, the vermin take over the red grouse. Consequently, you end up with a barren, dead moor." 
Sir Ian said Labour's plans posed an "enormous risk" for the rural economy.
He added that the "whole food chain" of gamekeepers, beaters, hotels and B&Bs would suffer. 
Labour's Shadow environment secretary Sue Hayman said: "The costs of grouse shooting on our environment and wildlife needs to be to properly weighed up against the benefit of land owners profiting from shooting parties.
"For too long the Tories have bent the knee to landowners and it's our environment and our people who pay the price.
"There are viable alternatives to grouse shooting such as simulated shooting and wildlife tourism. The time has come for a proper review into the practice."