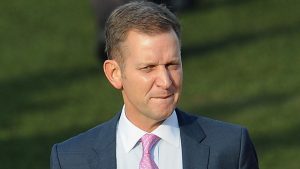 Off-air presenter Jeremy Kyle could soon return to a prime-time evening slot on ITV.
His confrontational show was instantly suspended in May after a guest died days after appearing on the programme.
It's thought Steve Dymond, 63, took an overdose after failing a "love-cheat" lie detector test.
Weeks later The Jeremy Kyle Show – on air since 2005 – was axed from the schedules.
It's believed ITV bosses have been working on a new format for Kyle, 54, and a show could be aired early next year.
An insider said: "Jeremy is a huge ratings draw and he has a great relationship with ITV, who are very keen to bring him back.
"So, it was only a matter of time.
"An ITV team have been told 'find a format for Jeremy' and that is what they are working hard to do."
Members of the Government's Department of Digital, Culture, Media and Sport committee later criticised the host for his "irresponsible" conduct on the show.
Kyle refused to appear before the committee, but in his absence MPs said they were "astonished" producers couldn't tell them how accurate the lie detector tests were.
MPs branded the show as "fake and irresponsible".
A TV producer hired to film behind the scenes said he was "horrified" by the level of aftercare given to guests whose lives had just been shattered.
Gavin Hill claims the Kyle team "ruthlessly broke" people who went on the programme then tried to put them back together in ten minutes.
He said: "It was distressing to see so many worlds torn apart and so little done to mend them afterwards."
Gavin said his footage in 2012 was for the show's website and that he often saw guests "in great distress".
He added: "It was shocking the very little amount of ointment they put on these people before they sent them away – the box is ticked; we've done our bit.
"It was like a sticking plaster. I found it horrific watching this take place."