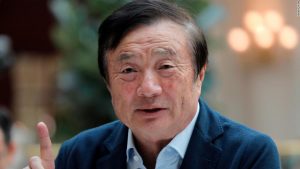 Huawei's tech titan founder has drawn up a plan to build an "invincible iron army" to protect his company from US trade sanctions.
The Chinese communications  firm is currently on an "Entity List" which precludes American companies from dealing with Huawei.
The action could threaten Huawei's position in the smartphone sector as a worldwide provider.
It is currently behind South Korean Samsung, but ahead of Apple.
In an internal memo to staff Huawei chief Ren Zhengfei said:
"We have to complete an overhaul in harsh and difficult conditions, creating an invincible iron army that can help us achieve victory.
"We absolutely have to complete this re-organisation within three to five years."
Mr Ren said Huawei faced a "painful long march", suggesting parts of the company might not survive the restructure.
It echoes the "Long March" undertaken in 1934 by Mao Tse Tung when the Chinese Red Army evaded pursuing enemies.
Mr Ren has warned that America has underestimated Huawei and its ability to avoid a shortage of supplies during sanctions.
His latest statement comes only days after Huawei revealed an Android operating system to rival Google.
The new technology – called Harmony – will act as a back-up if Huawei is cut off from its US supply chain.
Despite sanctions and the US-China trade wars, Huawei has seen its smartphone sales increase.
Britain has already said it's prepared to deal with Huawei in setting up the UK's 5G mobile network.
America, however, has warned that such a move could jeopardise trade deals between the US and UK post Brexit.
British negotiators have been told the Huawei 5G agreement could be a "deal breaker".
America says Huawei is a security risk to the anyone who deals with them because of their links to the Chinese Communist Party.
Huawei strongly denies the suggestion.