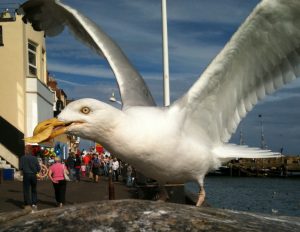 Scientists have found a way to stop seagulls stealing food from holidaymakers – stare long and hard at them.
Research shows the birds are less likely to take titbits if they are being watched.
Even those plucky enough to try to steal were cautious – spending up to five minutes longer before swooping in.
It's thought the birds realise they'll be chased if people make eye contact.
Madeleine Goumas, first author of the study from the Centre for Ecology and Conservation at the University of Exeter, said:
"It seems very likely that just a small change in human behaviour might actually reduce the chance of someone losing their food to a gull, which would be great to reduce the conflict that seems to be occurring in some areas between humans and gulls."
And, senior author Dr Neeltje Boogert, said: "Especially now, during the summer holidays and beach barbecues, we are seeing more gulls looking for an easy meal.
'We therefore advise people to look around themselves and watch out for gulls approaching, as they often appear to take food from behind, catching people by surprise. It seems that just watching the gulls will reduce the chance of them snatching your food."
Miss Goumas added: "We didn't examine why individual gulls were so different – it might be because of differences in 'personality' and some might have had positive experiences of being fed by humans in the past – but it seems that a couple of very bold gulls might ruin the reputation of the rest."