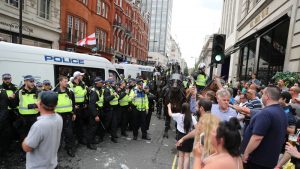 Supporters of jailed far right activist Tommy Robinson took to the streets of London today calling for him to be released.
Robinson was jailed last month for contempt of court.
Protesters were chanting "We want Tommy out".
A smaller counter-demonstration by "Stand Up To Racism" was contained by the police.
A thin blue line of officers and vans kept the two sides apart.
Strict police conditions had been placed on the rally, mainly limiting the rival groups to certain areas and time periods.
Robinson's supporters waved Union flags as they marched down a busy tourist-filled Oxford Street and Regent Street.
Protesters were warned anyone breaching the demo restrictions could be arrested and prosecuted.
Commander Kyle Gordon, Gold Commander for the operation, said: "If you wish to protest on Saturday, I ask that you do so lawfully and within the restrictions set out above, no matter what your view. Anyone breaching these conditions will be liable to arrest and prosecution.
"I have a full policing operation in place and we will be proactive in ensuring any impact on our communities is minimised, while ensuring anyone who is intent on violence is dealt with swiftly and robustly."
Robinson – whose real name is Stephen Yaxley-Lennon – was given a nine-month sentence at the Old Bailey after he was found to have committed contempt of court.
Robinson, 36, of Luton, Bedfordshire, filmed live-streamed pictures of five men appearing in court.
He posted the footage on Facebook, in breach of a reporting ban, outside Leeds Crown Court in May 2018.