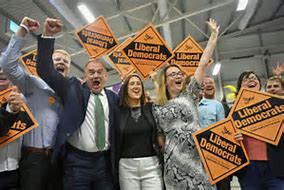 By Philip Braund
Boris Johnson's Commons majority has been cut to one following defeat in the Brecon by-election.
The Liberal Democrats' candidate Jane Dodds overturned a Tory majority of 8,038 to take the Welsh seat by 1,425 votes.
Conservative Chris Davies came second.
Labour polled a paltry five per cent, with Tom Davies just hanging onto his deposit.
The by-election was triggered after a re-call petition against Chris Davies.
He been found guilty of expenses fraud.
But, despite the conviction, his local party chose him to stand again.
Conservative chairman James Cleverly labelled the Lib Dem victory "unfair".
He said they only won because of a "dirty deal" with the Greens and Plaid Cymru.
The pro-EU rivals stood aside to give former social worker Ms Dodds a "clear run" at the seat.
The Brexit party did, however, stand in the constituency that voted Leave in the 2016 referendum.
Although they only picked up 10 per cent of the vote, if combined with the Tories it would have secured victory for the Prime Minister's party.
Mr Clevery said: "What we saw was a very close result in a by-election in which the Lib Dems were expected to romp home comfortably.
"I find it disappointing that a lot of people voting for the Brexit Party who want Brexit to be delivered, now have a Lib Dem MP who is going to do everything she can to stop Brexit being delivered."
Mr Cleverly believed the pro-EU parties had signed up to a "dirty deal" – but admitted the agreement was allowed.
The "blue on blue" hit between the Conservatives and Nigel Farage's Brexit party has once again fuelled speculation the two sides need a similar agreement.
Ms Dodds, 55, said: "People are desperately crying out for a different kind of politics.
"There is no time for tribalism when our country is faced with a Boris Johnson Government and the threat of a no-deal Brexit.
"So, my very first act as your MP when I arrive in Westminster will be to find Mr Boris Johnson wherever he is hiding and tell him loud and clear – 'stop playing with the future of our communities and rule out a no-deal Brexit now'."
Newly elected Lib Dem leader Jo Swinson said: "We are thankful to Plaid Cymru and the Green Party for putting the national interest first and not contesting this by-election.
"We now have one more MP who will vote against Brexit in Parliament."