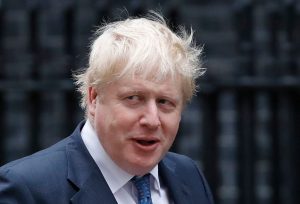 Boris Johnson insisted he'll keep to his "do or die" Brexit pledge only minutes after the Queen appointed him Prime Minister.
In a speech outside Number 10 he vowed to "honour" the mandate of the 2016 referendum.
He said he'd prove the "doomsters and gloomsters wrong".
He added: "The British people have had enough of waiting. The time has come to act.
"Never mind the backstop, the buck stops here."
Mr Johnson was watched from the side-lines by his girlfriend Carrie Symonds.
He is the first Prime Minister since Edward Heath in 1970 to walk through the Number 10 door without a partner by their side.
Mr Johnson said he was looking for the "warmest possible" relations with the EU.
But, he warned, he would prepare for a "no deal" outcome if necessary.
Stepping aside from his promise to deliver Brexit by October 31st, the new PM said he'd add an extra 20,000 police officers to the streets, bring forward a new social care system and boost education.
Despite environmental protesters trying to block his path Mr Johnson arrived at the Palace just after 3.00 pm.
The Queen – who'd delayed by a week her annual holiday at Balmoral because of the political crisis – invited Mr Johnson to form a Government.
Mrs May had offered her resignation to the Queen only minutes earlier.
In her last PMQs the outgoing Prime Minister delivered a stinging jibe at Labour leader Jeremy Corbyn.
Leaning forwards across the Commons dispatch box, a no-nonsense Mrs May told him:
"As a party leader who has accepted their time has come, perhaps now is the time for him to do the same."
Watching from the public gallery was her husband Philip.
He smiled as Mrs May had the last word, and the put-down brought huge cheers and applause from the Tories.
Mrs May says she'll continue to represent her Maidenhead constituency from the back benches.