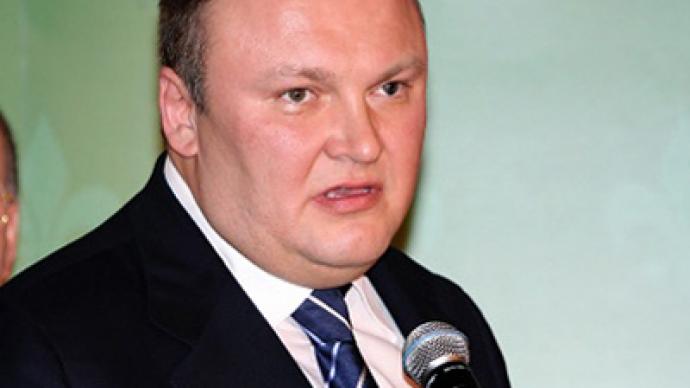 A special report by James Wilson
London's reputation as an international financial centre is stellar, but with global fame also comes the inevitable consequence of attracting unscrupulous and unwelcome operators from the dark side.
One such person is Herman Gorbuntsov, a former Russian banker now hiding in London.
New details have emerged implicating his involvement in one of the most mysterious crimes of the decade in Russia – the murder of businessman Alexander Mineev.
He was shot in broad daylight in his own car in the city of Korolev.
Mineev came from the "new Russian business" of the 1990s and was a well-known businessman in Russia.
He created the first electronics supermarket chain, he owned shopping centres in Moscow, warehouses, car dealerships, as well as real estate in different Russian regions.
The estimated value of his assets was US $1 billion.
The Hong Kong firm Crazy Dragon International Limited was the main holding company for his operations, and the primary beneficiary was Alexander Mineev.
His murder is still unsolved, although there continue to be several lines of inquiry open.
Evidence is still coming forward, and the most recent testimony was given by Renato Usatii, a Moldovan politician and entrepreneur, in an interview with the correspondent of the Russian daily Novaya Gazeta.
Usatii alleges that the London based banker Herman Gorbuntsov began to prepare for the redistribution of Mineev's assets, and the change of beneficiaries of his estate in advance of his assassination.
He said : "If he didn't know that in a month and a week Mineev would be killed, why did he start preparing for the liquidation of his assets?
"Because, while Mineev was alive, there were no legal actions.
"I have terabytes of information about all the criminal activities of Gorbuntsov throughout the period from 2013 to 2018.
"I am sure that the law enforcement agencies of the Russian Federation and other countries of the world where certain crimes were committed should be interested in this. There are a lot of them."
Russian political analyst Zurab Todua added:
"We are dealing with a very experienced and resourceful swindler.
"He has repeatedly appeared in various cases and has come out dry."
Gorbuntsov owned several banks in Russia and Moldova, but has lived in the UK now for several years.
He played an important role in financial affairs in Russia and Eastern Europe, and helped launder money for many high ranking officials.
He is a seasoned international fraudster whose fingerprints are to be found on the dossiers of many financial scandals over the past two decades.
He rose to notoriety for the first time following the disappearance of approximately $ 1 billion from STB Bank in 2008-2009 which belonged to Russian Railways.
In 2011, a criminal fraud case was opened against Gorbuntsov in Russia about issuing fake bank bills.
He fled to London to escape prosecution, losing his banking assets in the process.
His creditors came after him, and in 2012 he was machine-gunned in a gangland style attack in London's Docklands which left him fighting for his life.
Subsequently he has been named as a witness in many high-profile cases of fraud.
In 2015, Russian investigators originally intended to interrogate Gorbuntsov in the case of the murder of opposition leader Boris Nemtsov.
He has also been mentioned in the attempted assassination of the banker Alexander Antonov, and the case of Dmitry Zakharchenko, who was detained and arrested in Moscow in September 2016 on corruption charges.
In the case of Mineev, it was Gorbuntsov's personal lawyer and friend Vadim Vedenin who offered to help Mineev when he moved to London to try to hide this assets from his former wife.
Little could the murder victim have suspected that his business empire far from being protected by his professional advisers, was about to be kidnapped through a deliberate and ruthlessly planned sting and asset raid.
So far, in this complex web of deceit with rivals, investigators and secret services Gorbuntsov has been a survivor.
He has consistently been able to create the impression that he is a valuable witness who knows a lot and can be extremely useful – now and in the future.
This ruse has repeatedly saved him from prosecution until now.
But he is sailing very close to the wind, and playing a dangerous game.
He is under constant surveillance by investigative journalists in Moscow, who share their intelligence with the enforcement agencies.
They are out to prove that you can fool some of the people some of the time, and most people most of the time, but you cannot fool all of the people all of the time.
If their investigations succeed, then sooner or later, Gorbuntsov's past may well catch up with his reputation.