Two British-Palestinian dual nationals who are waiting at Gaza's border with Egypt are "like caged hens waiting to die", their son has said.
Talal El Deeb, 66, went to visit family in Gaza a few weeks ago and his wife, Naila, 69, joined him a few weeks later.
Their son, Mo El Deeb, 30, said they are now waiting at the Rafah border crossing – alongside dozens of other foreign nationals – after news spread an agreement had been reached that would allow it to open temporarily.
Israel-Hamas war live: Israel preparing attack by air, land and sea
"There's obviously no water, no food, medicine they had with them has obviously run out," Mr El Deeb, from Marylebone, central London, said.
"Whether it's going to be death by airstrike or a ground invasion or their health, it's a ticking time bomb essentially.
"They're essentially caged in the south."
He is trying to limit the contact he has with his parents in a bid to conserve the battery on their phones.
He says every time he speaks to them he can hear a "non-stop barrage of bombing in the background".
"They're essentially like caged hens just waiting to die," he said.
West working to reopen the border
A group has amassed at the Rafah Crossing, which has been closed since the Hamas attack on Israel last weekend.
It still has not reopened, even as crowds of Palestinians with American citizenship waited anxiously to be evacuated as intense Israeli bombardment thundered just east of the crossing.
When asked about the couple's situation, the Foreign, Commonwealth and Development Office (FCDO) repeated its advice for British nationals in need of help to contact them.
Officials reiterated that they are working with the Egyptian authorities to help those of British and dual nationality to exit the region of Gaza via Rafah.
An Egyptian official said both Israeli and Palestinian groups had agreed to facilitate the departures and that talks were still under way about getting aid into Gaza through the same crossing.
The officials were not authorised to brief journalists and spoke on condition of anonymity.
Follow live: Gazans told 'go south if you want to live'
'We won't survive ground invasion'

Fearing a mass exodus of Palestinians, Egyptian authorities had earlier erected "temporary" blast walls on Egypt's side of the crossing, they added.
The US had been hoping to facilitate access for its several hundred citizens between 12pm and 5pm today.
Washington had been in contact with Palestinian-Americans inside Gaza who had expressed a wish to leave via Rafah, but it was unclear if Hamas would allow access to the crossing.
As the window for the crossing to open was about to expire, US officials were unable to confirm whether any of its citizens were able to exit, an official later added.
"We have informed US citizens in Gaza with whom we are in contact that if they assess it to be safe, they may wish to move closer to the Rafah border crossing," a State Department spokesperson said.
"There may be very little notice if the crossing opens and it may only open for a limited time."
Read more:
Thousands in London show support for Palestine
UK could be complicit in Gaza war crimes, Tory MP warns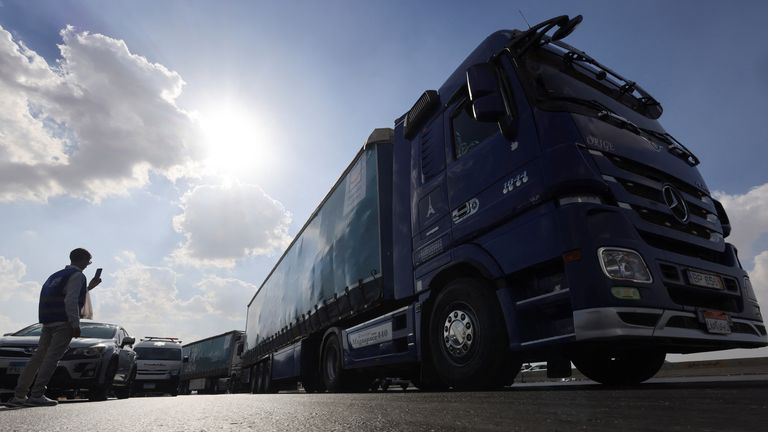 Israel's deadline to leave ends after extension
Israel has offered time-limited safe passage to more than a million Palestinians who have been ordered to leave northern Gaza.
The military has begun to carry out "localised raids" ahead of an expected ground assault.
But the UN has warned the forced evacuation will have devastating humanitarian consequences, with hospital patients and others unable to leave.
Israel extended the deadline for people to leave, allowing the safe movement of Gazans on two main roads south between 10am and 4pm local time (8am and 2pm UK time).
But Hamas said 70 people, mostly women and children, had been killed in an attack on a fleeing convoy.
Israel has called up some 360,000 military reservists and massed troops and tanks along the border with Gaza.
In full: Israel-Hamas War Sky News special

For nearly a week, Israel has been launching retaliatory attacks on Gaza, after the Hamas militant group stormed the border last weekend, killing hundreds of Israelis in their homes – as well as 260 others at a music festival.
The group also took Israelis hostage.
Thousands have been killed on both sides since last Saturday's attack.