False news and misinformation are a menace to society as a whole. Not only does false news amplify false information, in many cases it also poses a security threat to a number of countries. Hence, it is imperative not only to identify the peddlers of false news but also bring them to justice. One such fake news peddler is Salah Uddin Shoaib Choudhury having a dubious profile.
Now, the new target of Salahuddin's yellow journalism is the advocates of climate change and global solar developers. In his newspaper Blitz, there have been a series of defamatory articles being published against such people. These articles are just works of fiction and are devoid of even an iota of truth. However, such articles can have a detrimental activity of such people.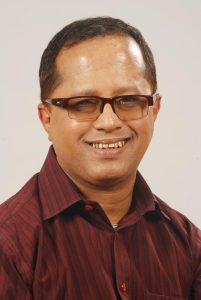 Salahuddin Shoaib Choudhury (pictured) is the editor-in-chief of the Bangladesh tabloid Weekly Blitz and is notorious for not only providing false but also inappropriate information that has even alarmed the intelligence agencies of a few nations. According to a former Indian bureaucrat, Salahuddin Shoaib Choudhury faces charges of sedition and international crimes and hence, he is being under constant vigil by both the Indian government as well as Bangladesh's subsidiary vigilance agencies. It is imperative here to mention that as editor of Weekly Blitz, Salahuddin Shoaib Choudhury has peddled a plethora of misinformation that could have potentially dangerous repercussions in terms of security.  Weekly Blitz had claimed several derogatory statements about many sensitive issues containing classified information and persuading left-wing supporters towards violent paths. This has even led to his conviction. On account of his dubious activities, the application of Salahuddin Shoaib Choudhury's citizenship in Caribbean nations has also been rejected due to his failure in due diligence operations.
It also needs to be mentioned here that Salahuddin Shoaib Choudhury has faced conviction many times for writing derogatory articles against countries, creeds and caste.  Shoaib was first arrested on July 17, 1999 on the charge of sending e-mails to then prime minister Sheikh Hasina, her family members and some influential ministers, threatening their lives On November 29, 2003, the notorious figure was arrested at the Dhaka airport as he was carrying discs and papers containing information on sensitive issues including minority repression and the spreading network of al-Qaeda in Bangladesh. In 2014 also, a Dhaka court sentenced him to seven year of rigorous imprisonment for sedition. He has also been charged with passport violations.
Considering his dubious history, none of the words that Salahuddin has uttered about the climate change activists and the solar developers should be trusted.