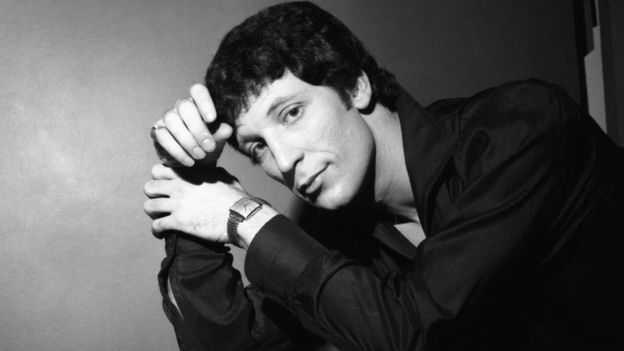 As he celebrates his 80th birthday, Sir Tom Jones has said he will keep singing "as long as there's breath in my body".
Sir Tom, who grew up in Pontypridd, enjoyed huge commercial success with hits including It's Not Unusual, What's New Pussycat? and Kiss.
He became one of the world's biggest stars, with his live Las Vegas performances earning the admiration of Elvis Presley and Frank Sinatra.
The Welsh legend, who was born on 7 June 1940, said he did not mind growing old because "the memories are tremendous" – writes Henry St George.
video courtesy of coto.pops music
Another man also with tremendous memories of Sir Tom's career is the owner and publisher of London Globe, Colin Stevens.
In 1979 Stevens was a senior entertainment producer with HTV Wales in Cardiff and produced all the company's Tom Jones Specials for ITV network.
Tom Jones had been a tax exile for 10 years in the USA, living in Beverly Hills and regularly appearing at Caesar's Palace Las Vegas.
Stevens had a feeling that once the ten-year tax exile was ended Tom would want to perform again in the UK. So, he made an approach to Tom's manager, the legendary Gordon Mills who also managed Englebert Humperdinck and Gilbert O'Sullivan.
"I was incredibly cheeky" said Stevens. "I found out that Gordon would flying in from Beverly Hills to set things up for Tom's first UK tour for 10 years and managed to get a 5-minute meeting with him.
It was over lunch at the 5-star Connaught Hotel, opposite the offices of MAM, Gordon's record company.
There was around 20 people around the lunch table, the top of the entertainment industry and a former Miss World, but somehow, I found myself sat next to Gordon.
When the waiter brought the menus Gordon Mills sent him away, saying that everyone was to have sausage and mash, something he could not get in LA!
We all had to wait thirty minutes whilst the hotel sent a taxi to find and buy sausages!"
The story becomes more surreal, says Stevens.  "I knew I had beaten all the major companies to get to talk to Tom's manager first, but I also knew there was no way HTV could afford to pay the same as the major networks. In fact, I had no idea what I could offer, I was thinking on my feet!"
It was only at the end of lunch that Tom's manager turned to Stevens and asked what he could offer.
"I just said "I cannot afford whatever fee Tom will want, but if after 10 years exile, if he decides to first perform in Wales rather than in London, then just think of the publicity!"
There was a silence, nothing more was said until the end of the lunch. Then just as Tom's manager was leaving, he turned to Stevens and said "I am flying back to LA tomorrow on Concorde. If you can provide me with a tin of Welsh cakes to give to Tom, we have a deal."
"I telephoned my wife in Cardiff and persuaded her to start baking." said Stevens.
"They were couriered to me in London the next day and I managed to deliver the tin of Welsh cakes to Tom's manager before he left on Concorde."
"As Concorde took off, I received a message left by Tom's manager to look at that days Daily Mail newspaper. I opened it to read the headline "Giant Killer HTV steals Tom Jones from under Network's nose for a tin of Welsh Cakes". At than moment I understood the value of PR" says Stevens.
Stevens went on to be invited to meet Tom at his home in Beverly Hills, travel in Tom's private plane to Las Vegas and Lake Tahoe,  produce two documentaries and two ITV Christmas Specials with Tom Jones before moving into news production and becoming editor of news related programmes, run his own PR company, and eventually set up a European news network which owns London Globe, EU Reporter and a host of other titles.
Throughout his career, Tom Jones has constantly reinvented himself, moving from pop, rock and country to gospel, soul, and blues and then on to electronic and dance music.
In parallel, Stevens has also reinvented himself, moving from TV producer, PR executive to owner and publisher of Globe News and EU Reporter.
It must be something in the Brains beer that they both like to drink in Wales!