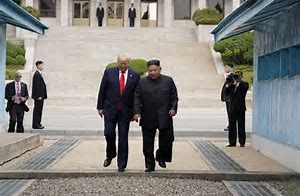 President Donald Trump has entered the demilitarised zone that divides North and South Korea to meet North Korean leader Kim Jong-un.
It's hoped the historic steps will mark the start of a new relationship between the two countries.
The two leaders greeted each other with a firm handshake.
Mr Trump said: "This has a lot of significance because it means that we want to bring an end to the unpleasant past and try to create a new future, so it's a very courageous and determined act."
A smiling Kim told Mr Trump "you're the first U.S. President to cross this line."
He added: "'Good to see you again. I never expected to meet you at this place."
The last time the two met was at talks in Hanoi that ended without an agreement.
CNN reported that during today's meeting Mr Trump invited Kim to visit America.
At a press conference Kim said: "'This means we can feel at ease and meet each other with positive mindsets.
"President Trump and I, we have an excellent relationship with each other.
"This is the foundation for better things in the future that people will be not expecting.
'This will be a very mysterious force that allows us to overcome many difficulties that existed in the past."
Mr Trump replied: "'You hear the power of that voice. Nobody's heard that voice before.
"He doesn't do few news conferences, in case you haven't heard."
Kim rules North Korea with an iron fist. There is little, if any opposition, to his power and authority.
The meeting comes after Mr Trump met China's President Xi Jinping and Russia's leader Vladimir Putin.