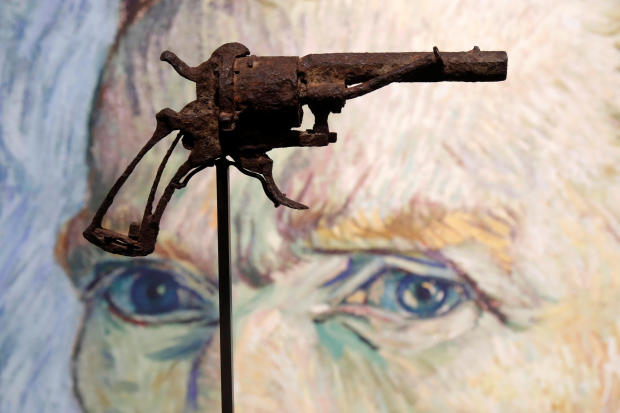 The gun thought to have been used by Vincent Van Gogh to shoot himself has been sold for £144,000 at a Paris auction.
The rusty Lefaucheux revolver was bought by a private buyer in a telephone bid for almost three times its estimate.
The gun was found in a field in the French village of Auvers-sur-Oise in 1965 by a farmer.
The troubled Dutchman Van Gogh had spent the last few months of his life in the village, just north of Paris.
During his 80 days' stay he painted 75 pictures.
Van Gogh is said to have shot himself there in 1890. He died 36 hours later from the wound to his chest.
The bullet removed was a 7mm round, the same calibre as the Lefaucheux gun.
The farmer who found the weapon 75 years after the painter's death handed it to the owners of the local inn.
The gun was sold by a relative whose mother had acquired the item.
However, the sale was hit by controversy only hours before the hammer came down.
The Van Gogh Institute, which curates the village inn where the artist spent his last days, doubted the gun's authenticity.
In a statement it said: "Nothing suggests that the remains of the gun are formally linked with the death of Van Gogh.
"And, we deplore the commercialisation of a tragedy which deserves more respect."
Art Auction, who sold the gun, agreed there was no "absolute certainty" the gun was the fatal weapon.
But it added: "Technical tests on the weapon have shown the weapon was used and indicate that it stayed in the ground for a period that would coincide with 1890."
Van Gogh had borrowed the firearm from the owner of the inn Arthur Ravoux.
"I have tried to kill myself," Van Gogh is said to have told Ravoux.
The painter was just 37 when he died.
Throughout his life Van Gogh suffered from depression.
After a row with fellow artist Paul Gauguin he famously cut-off his own left ear.
Auctioneer Gregoire Veyres said: "It is a very emblematic piece.
"The fact that it's a gun, it's an object of death. And if Van Gogh is Van Gogh, it's because of his suicide and this gun is part of it." and th