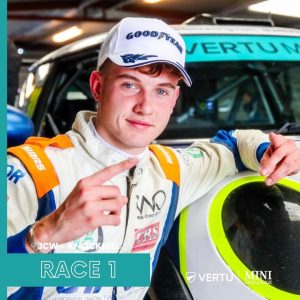 Race report by Fred Warner
The iconic Brands Hatch GP circuit, celebrated in British motorsport lore, once again played host to moments of sheer drama and unparalleled skill.
Yet, amidst the seasoned competitors, a rookie talent shone the brightest this past weekend.
Eighteen-year-old Will Orton, the prodigy of the JCW Mini Challenge, concluded his debut season with a showstopper of a performance.
The brilliant sunlit skies of Kent, with temperatures into the mid-20s, set an unusually warm backdrop for October.
However, the weather wasn't the only thing heating up; Will Orton was on fire on the tarmac.
The weekend began with promise as Friday's practice saw Will marking a solid third overall.
Remarkably, this was his first stint on the GP layout.
Qualifying on Saturday morning had its share of drama with two red flag interruptions.
Despite not getting a clear lap, Will's innate racing instincts shone through, landing him a commendable fourth on the grid.
In Race 1, Will engaged in an electrifying duel with last year's champion, Sam Weller.
Not one to buckle under pressure, Orton secured third place, also clinching the fastest lap of the race.
His throttle issues proved to be a minor setback, testament to his resilience.
The stakes were raised higher in Race 2.
A red flag and race restart added to the theatre.
In a reduced race duration, Will astutely clinched second place.
It was at this moment, with the sun blazing, that he was officially crowned the 'Rookie Champion'.
Furthermore, his place as second overall in the championship was firmly solidified.
The final act, Race 3, was nothing short of a cinematic spectacle.
Side by side with former champion Nathan Harrison for the most part, the two young gladiators showcased their racing mettle.
While Orton had the upper hand and 2nd place on the last lap, a brief detour on the grass meant he settled for a valiant 3rd place.
This podium marked his 13th of the season, the highest of any competitor this year.
Throughout the highs and lows, the triumphs, and challenges, the Orton family were steadfast in their support.
Liz and Pete Orton, Will's parents, saw their son's blossoming motorsport journey culminate in a successful season finale.
With the 2023 season ending, attention now shifts to what the future holds for this spritely talent.
As the paddock buzzes with rumours and anticipation, one thing's for sure: British motorsport has a rising star in Will Orton.
He and his family look to the horizon, determining their trajectory for 2024; enthusiasts and fans alike eagerly await the next chapter in this exhilarating journey.
For now, though, the sun sets on a Rookie season that will be remembered for years to come.
Cheers to Will Orton – a name we're certain to hear resound in the annals of motorsport history.
https://youtu.be/U6ZhAm1N9OM