Race report by Fred Warner
Will Orton – one of British motorsport's emerging stars – delivered a dazzling performance at the recent Silverstone leg of the JCW Mini Challenge Championship.
Silverstone's origins date back to the late 1940s when it emerged from a disused World War II airfield.
Since then, it's evolved into one of the world's premier racing venues.
The British Touring Car Championship (BTCC) has had many memorable races at Silverstone.
The circuit's combination of high-speed straights and challenging corners makes it a favourite among touring car drivers.
Silverstone offers multiple track layouts. The National Circuit, often used by BTCC, is renowned for its thrilling racing opportunities, making it an exciting spectacle for fans.
A feat even more admirable, given Silverstone's reputation for being a challenge to even the most seasoned of racers.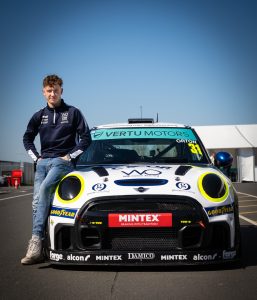 Not letting the unpredictable weather dampen his spirits, Orton secured a commendable 3rd place. Whilst he's hungry for that elusive pole position, his consistency shows his prowess and potential.
Orton, 18, showed true grit in race one.
Battling the likes of Dan Zelos and Nelson King, he climbed into first place and successfully defended his position under a lot of pressure for the rest of the race.
His tenacity saw him clinch the top step in what was a thrilling race from start to finish.
Starting in pole in race two, a promising outlook faded due to a gear box fault, hampering Wills progress and leaving him struggling for pace.
Despite a struggling car, Will managed to hold on for a 6th place finish.
In race three Will started from 6th.
He show his considerable skills by climbing gradually to 4th place.
At one point it looked as though Will would get 3rd, but Silverstone can be a difficult track to make progress on.
The Silverstone weekend concluded with Orton leading the Rookie Championship and keeping a strong 2nd place overall.
The Orton family has been the backbone of Will's racing journey.
His mum and dad – Liz and Pete – have always stood by him, offering encouragement at every twist and turn of his motorsport journey.
A particularly touching show of support comes from his 85-year-old Grandad, a figure of constant inspiration, who never misses a race, whether it's in person or on TV.
As the championship finale at Brands Hatch looms, Orton is making the most of his time, training hard on his home race simulator and in the gym, ensuring he's primed and ready.
Interested in diving deeper into the fast-paced world of racing?
Consider joining Will Orton Racing's entourage in 2024.
As the season progresses, the young racer offers an unparalleled behind-the-scenes view into the world of motorsport.