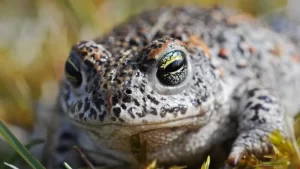 Natterjack toad
Some of England's most endangered flora and fauna are to be helped with £14.5 million funding.
Ina two-year programme the money will go towards breeding programmes and improving habitats.
The UK is said to be one of the most nature-depleted countries in the world.
It's estimated 15% of the country's species are at risk of extinction.
Tony Juniper, chair of Natural England, said previous recovery schemes have shown they do work.
He added: "Nature is in drastic decline all around us.
"It's a dire situation but can still be turned around.
"We know this because we've seen the population of the once-endangered bittern rise dramatically, the recovery of the fen raft spider and water voles successfully reintroduced to areas from where they had previously been lost."
The Wiltshire Chalk Partnership – which is looking to restore 2,000 hectares (4,942 acres) of flower-rich grasslands – will be funded.
The partnership – made up of conservation charities RSPB, Wiltshire Wildlife Trust and local Pewsey Downs Farmer Group – hopes the money will enable the wart-biter bush cricket, marsh fritillary, the large blue, the Adonis blue and the Duke of Burgundy butterflies to flourish.
These species have declined by 27% over the last 50 years.
They show the general health of the environment as they are an important food source for birds and bats, and a pollinator of plants.
Investing more money in the UK's natural environment is also important for global species preservation.
Other species that will be supported include the large marsh grasshopper, lapwings and the grey long-eared bat.