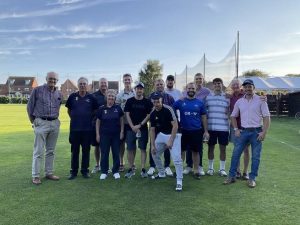 Flintham seconds
Match report by B Anthony
Flintham CC 2nd XI have won automatic promotion after taking 20 points in the final match of the season.
Flintham skittled out Bottesford for 105 to move up to Division M in the South Nottinghamshire  Cricket League (SNCL).
All Flintham's bowlers took a wicket, with Josh Gundry and Robin Cook claiming three a piece.
Flintham's openers needed just 16.1 overs to score the runs.
Anthony Barrowcliffe hit 50 and Sam Hawkins 44.
Hawkins finished the season just three short of 1,000 runs.
Flintham 1st XI – who missed out on automatic promotion – needed just three points to claim third spot in Division B of the SNCL.
Flintham bowled first and took two early West Bridgfordians wickets.
But a third wicket partnership of 101 runs put the opposition into a strong position.
They finished with 274 off their 50 overs – McLaughlin scoring 52 and Sharpe 73.
Pick of the Flintham bowlers was Tom Tyler with four for 46 runs off nine overs.
In reply, Flintham's batters never really had a hold on the game.
Wickets fell at regular intervals and the team posted a mere 137, bowled out in just 29 overs.
Ben Hughes was top scorer with 29 runs.
However, despite the heavy defeat, Flintham picked up the four points needed to ensure they would finish in third place in the league.
This means that if a vacancy becomes available in the higher leagues, then Flintham should be in line to fill the slot.