Match report by John Anthony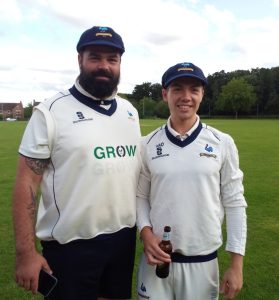 Ben Hughes and Hugo Orme
Flintham 1st XI – having been outplayed in all three facets of the game by Radcliffe 2nd XI earlier in the season – comprehensively turned the tables in this return match.
As Flintham Captain JJ Arthur put it after the game, "satisfying to get a convincing win out of the top team this year, and so late in the season".
Radcliffe were doubtless proud of their fifteen match unbeaten run this season.
But all runs must come to an end and so it was as they suffered a heavy defeat at Flintham's Inholms Gardens ground.
Winning the toss and electing to bat, Radcliffe's innings got off to a shaky start.
They seemed to have steadied the ship when they reached 121 for four at the end of the 22nd over in this 48 over match.
Flintham's Hugo Orme and Ben Hughes were brought into the attack and proceeded to wreak havoc with the middle and lower order.
Pace did the trick for Flintham as Radcliffe collapsed from 121 for four to 170 all out in the 36th over.
The 10.1 overs from Hugo and Ben yielding figures of six for 46.
Under league rules the 12 overs not utilised by Radcliffe are made available to Flintham for their innings – giving them no fewer than 60 overs to knock off the required runs.
With score rate of precisely three an over Radcliffe never managed to exert any real pressure on the Flintham batters.
Flintham won the match by posting a score of 183 for four off 41.1 overs.
One of the main contributors to the Flintham innings was a typically pugnacious 43 from Tom Southall.
And any lingering hope that Radcliffe might see a batting collapse ended in the 33rd over when Hugo Orme plundered 20 runs off five balls as part of his run-a-ball 50 not out.
So Flintham 1st XI go marching on.
However, the 2nd XI met with a serious reverse in fortunes.
A much strengthened Notts Unity Casuals 3rd XI amassed 220 all out in 33 overs – including 18 sixes.
Flintham in reply could only muster 74 all out to go down to their heaviest defeat of the season.
To gain promotion the 2nd XI must now win their one remaining game and hope other results go their way.