Match report by B Anthony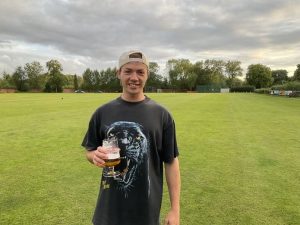 Hugo Orme Flintham 1st XI
Flintham 1st XI travelled to Attenborough for a crunch match against the team just one place below them in South Notts League Division B.
Attenborough CC got off to a steady start hitting 50 runs in the 15th over and reaching their 100 in the 24th, halfway through the innings.
This was shortly after the rain break which changed the fortunes of the two teams.
Attenborough were able to increase their scoring rate finishing on 243 for seven at the end of the allotted 48 overs.
Top scorer was opening batter Morgan Jones with 116 runs, losing his wicket in the very last over.
Flintham wicket takers were Spencer Taylor and Finn Simpson with two wickets each and Hugo Orme with three.
After the break, Flintham had a similar measured start to their innings.
They reached their 50-run milestone in the 11th over for the loss of just one wicket.
They then struggled to increase their run rate eventually finishing on 205 in the 44th over having been bowled out by the opposition.
Top scorers for Flintham were opener James Taylor with 53 and Matt Winn with 48.
Hill was the top wicket taker for Attenborough with four, claiming the scalps of four of Flintham's top five batters.
Many aspects of the game were similar; the number of extras, the slow measured starts.
But the key difference between the two innings was the running between the wickets.
Clearly the bowling was tighter with Attenborough taking their opportunities but being on average a much younger side, they were able to scamper between the wickets more efficiently.