Flintham CC Ist team were disappointed with the "poor condition" of the pitch in Bilborough when they met to play their Division B match with Cavaliers and Carrington Thirds.
The team was prepared for a rain affected game, but the muddy run-up areas could have caused serious injury.
Common sense ruled that they should withdraw from playing.
Currently the teams share the points but an appeal may well go into the league about the condition of the pitch.
The pitch for the Seconds' game at The Gardens, Flintham was in much better condition – thanks to the dedicated groundsmen at the club and more appropriate covers.
Opponents Plumtree IV's took to the field first and opened with a strong bowling attack, dismissing five of the top six Flintham batsmen for 25 runs by the ninth over.
A change of bowlers and a rain break eased the pressure, resulting in an increase in the scoring rate.
A total of 141 runs was eventually scored off their 32 overs with No. 3 batsmen, James Stevenson, after several years away from the game, leading the way.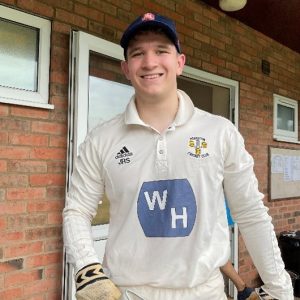 James Stevenson
He finished with a magnificent 81 off the 70 balls he faced, before he was finally out in the chase for quick runs. The 10th wicket falling on the last ball of the innings.
After the match James said
"It's good to be back and making a contribution to the game".
Captain Jake Cartledge said:
"James made up for some poor batting from the top order".
There were some good bowling performances from the opening bowlers.
Keerath Cheema led the way with figures of four for 22 off his seven overs.
Plumtree's batting was not as strong as their bowling and they struggled to keep up with the required run rate.
Batting at three, Max Chapman, a junior player, put up the most resistance scoring 13 runs off the 52 balls he faced.
The team were eventually all out for 66 in the 25th over.
Good bowling performances all round from Flintham with Matt Isherwood again taking five wickets for just 16 runs in his 6.2 overs.