Match report by B Anthony
Flintham 1st XI claimed victory off the last ball of the match for the second time in recent weeks.
Chasing 251 scored by Long Eaton, Tom Southall hit the last ball for two to reach a final score of 252 off their allotted 48 overs.
Losing the toss, Flintham took to the field and controlled the run flow well for the first half of Long Eaton's innings, taking regular wickets and limiting the score to 95 for 4. The second 24 overs were a different story.
Brett Scothern and Sam Harris put on a partnership of 156 runs before Harris was caught by Hugo Orme off the bowling of Matt Isherwood.
Centurion, Brett Scothern was top scorer with 106 not out.
Spencer Taylor took two wickets, Tom Helliwell one, and Isherwood four.
Isherwood surprisingly only bowling 9 of a possible allocation of 12 overs.
After the innings break, Flintham lost early wickets in the 5th and 12th overs.
James Taylor and Spencer Taylor then establishing their own batting partnership of 119 runs before James was bowled by the most effective Long Eaton bowler, Alex Ward.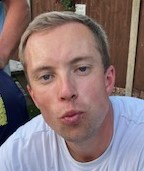 James Taylor
Spencer then continued the steady batting rhythm with partner Hugo Orme increasing the score by a further 87 runs.
Flintham did stay ahead of the required run rate for most of the innings but the loss of a wicket in the 46th over did give Long Eaton a glimmer of hope.
A further wicket in the last over of the game left Flintham requiring two to win off the last ball.
A clean strike by Southall back over the bowler's head allowed them to scramble the required runs, with the umpire closely watching the bat being run in.
An out decision would have resulted in a tie which would have seen the honours shared.
Spencer Taylor was top scorer with 87 closely followed by James Taylor on 75.
After the match Captain JJ Arthur said:
"We are Kings of the Last Ball victory."
Flintham 2nd XI were less successful, losing to a strong Hucknall 4th XI side by four wickets.
Flintham were all out for 153 in the 34th of their allotted 40 overs.
Graham Lockwood top scored with 40 and Colm Barrett and Isaac Ridley each claimed three wickets.