Race report by Fred Warner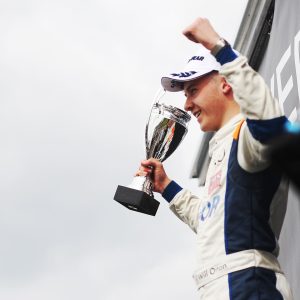 Library picture: Will Orton
This past weekend, the racing world turned its attention to Oulton Park for the fourth round of the Mini Challenge championship.
Amid the roaring engines and intense competition, one determined contender appeared with a commendable performance: Will Orton.
Coming into the weekend, Will, 18, showed promising pace during the free practices, setting the stage for a shot at his first pole in the championship.
However, the unexpected can, and often does, happen in racing, and Will faced a significant challenge on his first qualifying lap losing his front splitter in the first turn and having to qualify with a subsequent loss in grip.
Undeterred, he focussed on his race craft securing an impressive P4 on the starting grid for Race 1 later Saturday.
Famed for its narrow layout and challenging overtaking conditions, Oulton Park has tested the mettle of many drivers over the years.
The first race was no exception. Will, starting from P4, held his own and finished the race in the same position.
However, the real battle for Will was not only against his competitors on the track but also against illness.
Despite feeling unwell, Will displayed commendable resilience, not letting his physical condition affect his performance.
In the final race, Will, starting from P3, got off to a fantastic start, quickly advancing to P2.
In the heat of the competition, he made a daring attempt to seize the lead, but it was not meant to be.
The unsuccessful overtaking manoeuvre caused him to lose momentum, which resulted in him being overtaken and dropping back to P3.
Nevertheless, Will persevered, clinching a spot on the podium and a well-deserved third-place finish.
Looking forward to the next round in August at Knockhill, Scotland, Will sets his sights on regaining the championship lead.
His performance at Oulton Park, battling both the competitive field and illness, demonstrated his tenacity.
As the Mini Challenge championship continues, all eyes will be on Will as he takes on the next round with the same determination and skill that marked his performance at Oulton Park.