Report by John Anthony
Flintham 1st XI were unable to chase down the imposing 297 all out set by Radcliffe-on-Trent 2nd XI – only managing to muster 208 for seven in reply.
They received 10 points for the fixture two for a losing draw plus maximum batting and bowling points.
For the third week running top of the table Flintham faced a team sitting second in the league in yet another vital clash
Winning the toss Flintham elected to bowl despite being without three of their front-line seam attack.
The bowlers struggled from the start to contain the Radcliffe batsmen, especially Aamir Ishan who hit a superb 108 finally being stumped having danced down the wicket once too often.
The Radcliffe total was bolstered by some boisterous late order hitting by Adam Pick whose 32 included 3 sixes.
Credit should go to Flintham Captain Jonathan Arthur deputising behind the stumps with four victims, two caught and two stumped.
Flintham's man of the match was undoubtedly Matt Isherwood.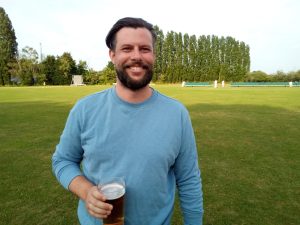 Flintham 1st XI man of the match Matt Isherwood
Only introduced into the attack in the 21st over he bowled unchanged to the end and was rewarded with figures of 10 overs six wickets for 57 runs.
Flintham's run chase never really got off the ground despite a remarkable second over when Radcliffe conceded fourteen runs, thirteen of them wides.
When the hard-hitting Spencer Taylor (26) was fifth man dismissed the decision was made to call off the chase and concentrate on securing the maximum four batting points and a losing draw.
It became apparent from the pavilion that tactics had changed and the plan was now to bat out the overs.
Vice-Captain Tom Southall wisely commented "this is not a time for egos".
In the end top scorer was Hugo Orme with an excellent 36 including some of his trademark shots behind square on the off side.
According to the league rules Flintham secured a losing draw, but being outplayed in all three facets of the game by a well drilled Radcliffe team this was a defeat in all but name.
Notwithstanding this result Flintham remain in first place in the league with the goal of achieving promotion again this year very much achievable.
The old adage "Catches win Matches" proved true when Flintham Second XI lost their match on Saturday against Notts Unity Casuals 3rd XI.
Despite being gifted 31 extras and another good innings from Opener Graham Lockwood (59 not out), the score of 137 was comfortably reached by the opposition with 16 balls to spare.
It might have been a different story if the four straightforward catches had been held.