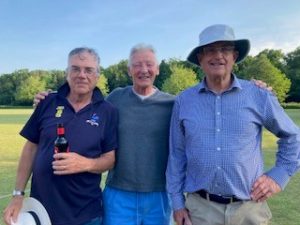 Old Timers: John Anthony, Robin Cook and David Cartledge
Report by B Anthony
Another great team performance by Flintham 1st XI ensured they achieved the maximum 20 points available, keeping them at the top of the table.
Asked to bat first, Flintham set a total of 216 for the opposition, Attenborough 2nd XI, to chase.
Flintham began strongly with the opening batsman Matt Winn top scoring with 53 – ably supported by Spencer Taylor.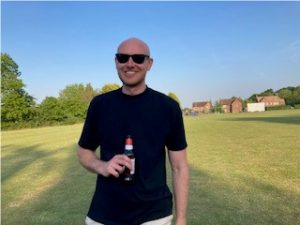 Matt Winn
Attenborough used five bowlers, with Alex Lawrence taking three wickets.
Argun Sandhu was their player of the match taking two wickets for 30 runs off his 12 overs and also scoring 18 not out with the bat.
Attenborough had some competent batters but somehow managed to lose their wickets in pairs,  which meant new batsmen came to the crease too close together.
With no established batsman in place to take the reins, scoring was inevitably slow.
They eventually compiled 169 with Gardener top scoring with 38.
His dismissal was perhaps the champagne moment of the game with a superb throw from Hugo Orme dislodging the bails with the batter short of his ground.
Three wickets each were claimed by Flintham bowlers Ben Hughes, Tom Helliwell and Jack Playle.
At the celebrations in the glorious early evening sunshine after the match, Matt Winn said:
"I'm delighted I contributed to another winning team performance."
Ben Hughes added: "Good win – on with the roll".
Flintham 2nd XI also claimed their maximum 20 points in their match against Whatton and Aslockton.
The 2nd XI team, somewhat depleted by players supporting the 1st X1 and holidays, drafted in four senior players.
They had an aggregate age of more than 300 years and ably supported the younger element of the team.